Here is a step-by-step instruction on how to configure DNS on your iPhone or iPad with DNS Override app. The standard DNS changing method has to be performed manually in Wi-Fi settings, separately for each network. Also, by default, iOS does not offer an easy way to change DNS settings for the cellular connection. That's where DNS Override app comes in handy, as the app allows you to set DNS globally for all networks and it works with Wi-Fi and cellular.
Two popular DNS-based functions include content blocking (i.e. adult content) and accessing geo-restricted content through SmartDNS service.

1. Download DNS Override app on your iPhone
You can do that by searching for "DNS Override" in the App Store or following this link. The app is free to download.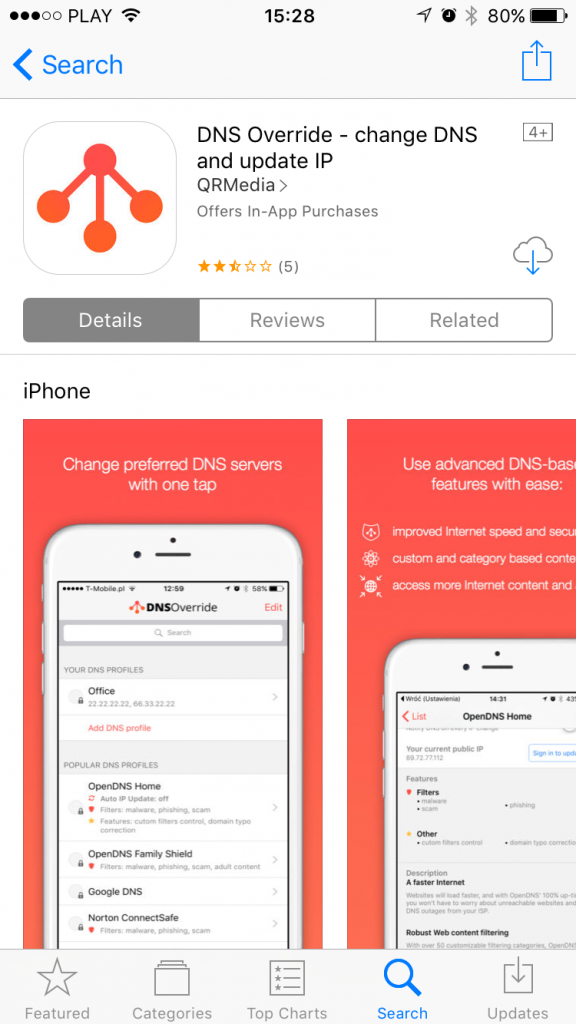 2. Launch the app and review the list of supported DNS providers
The main screen of the app is a list of built-in DNS profiles. These represent different popular DNS servers publicly available, which provide different features. The list is divided into three sections: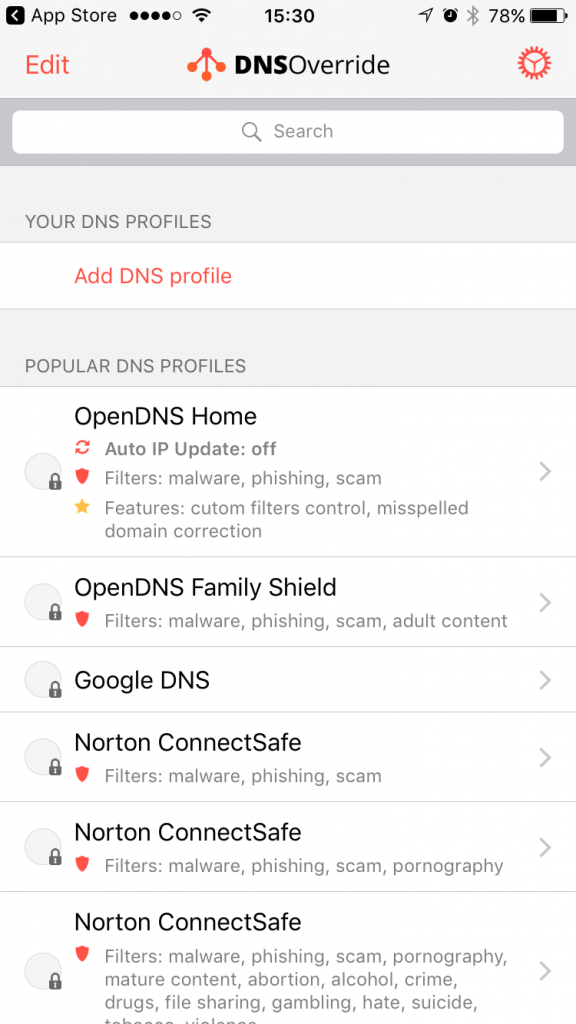 Your DNS profiles – this allows you to configure your own set of DNS server to use. You will need to know the IP addresses of these DNS servers to create a profile.
Popular DNS profiles – this is a list of popular global DNS service providers like OpenDNS or Google. These providers offer a different set of features like malware, phishing and scam protection with OpenDNS Home vs. all this plus additional adult content filtering with OpenDNS Family Protect. If you want to effectively block access to porn sites to prevent your kids from accessing them, go with OpenDNS Family Shield or Norton ConnectSafe profile.
SmartDNS profiles – this is a list of supported SmartDNS providers handpicked by us. Every service provider in this section offers a different set of channels (video/audio services with geo-restrictions applied). To know them better, go to the details page and use "View offer" button. Using SmartDNS to access geo-restricted content is a paid service, so to use these you'll need to purchase a subscription package (or use one you already have). Luckily in most cases, there is a free trial, so you can test it and check if your favorite geo-restricted channel is, in fact, accessible through SmartDNS you pick. We highly recommend Unlocator as a well known and reliable SmartDNS service. You can sign up directly from DNS Override app by going into Unlocator details page -> Credentials and tapping on the Sign-up button.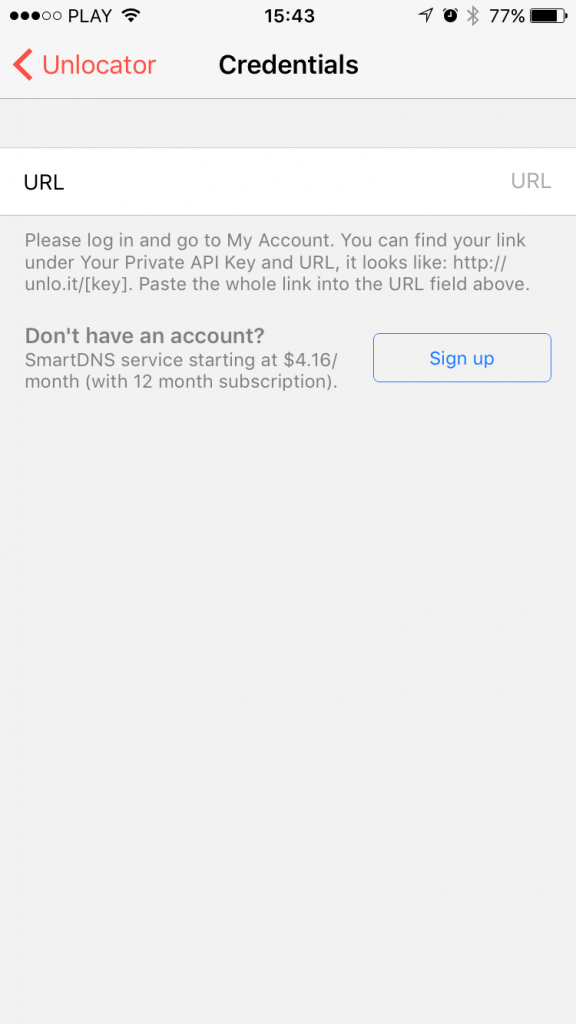 3. Unlock DNS Override in-app purchase ($1.99)
Setting up DNS servers on iOS is normally done by configuring your Wi-Fi network settings. You can find a detailed instruction on how to do this in Manual DNS Setup page available on the details page of every listed DNS profile. This is done fairly easily but requires you to remember to reconfigure each Wi-Fi network you connect to. Plus there is no easy way to set DNS servers for cellular connection. So if i.e. you want to block access to adult content on your kids' iPhones or iPads, it will work only with your home router. As soon as they switch to some other Wi-Fi network or simply disable Wi-Fi and switch to the cellular connection, it's not going to work anymore.
That's why we have created the DNS Override feature, available as an in-app purchase.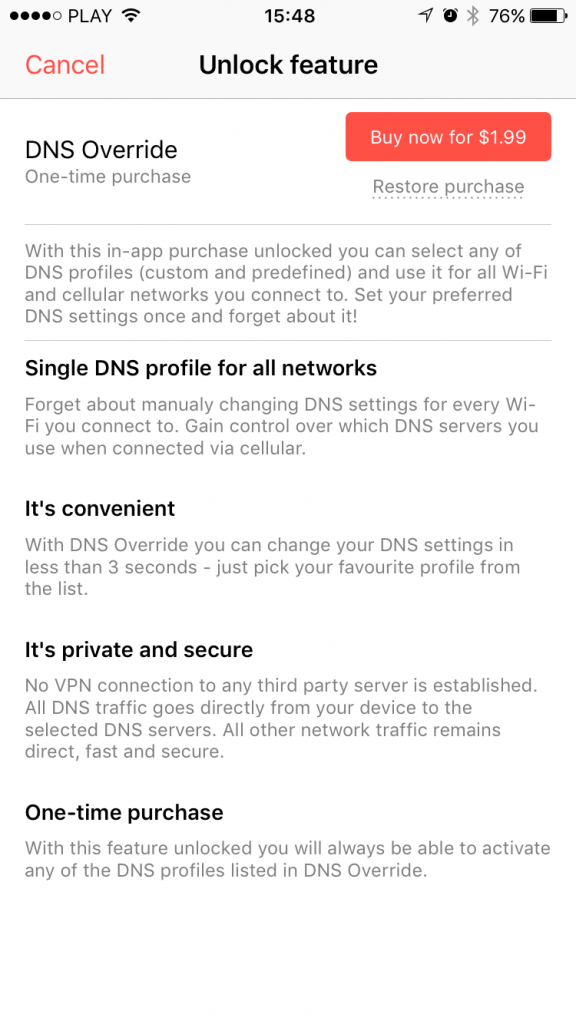 It will allow you to force your preferred DNS servers for every network connection accessed by the device. No matter which Wi-Fi or cellular network you use – the DNS profile you select in DNS Override app will work with all browsers and apps.
As soon as you purchase the DNS Override in-app you'll be asked to install a dummy VPN profile. Please complete the process – it is required for the actual DNS enforcing to work on your iOS device.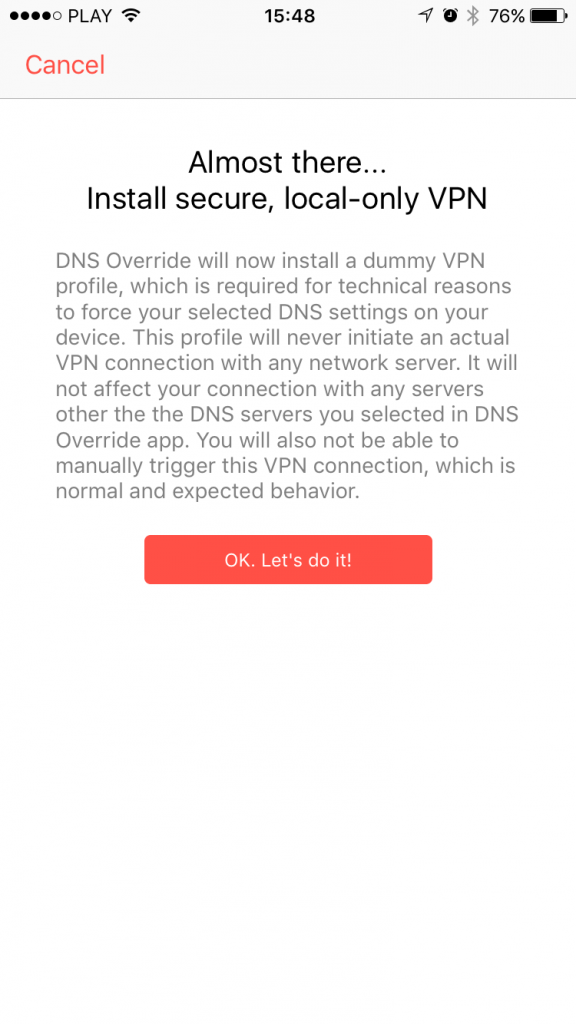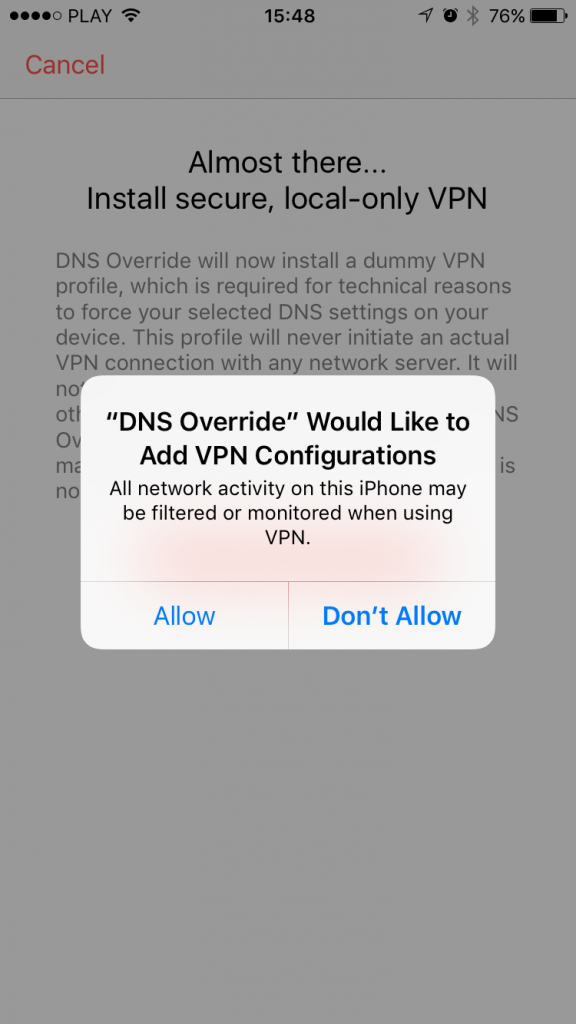 Please note that this is not an actual VPN service – you will not be able to connect to a VPN server and it's intentional. Even if you go to Settings app -> VPN and try to manually trigger the VPN connection, you'll get the error message and it's OK! The error message is there because there is no VPN server on the other side and the VPN profile itself is used just as a method for enforcing DNS settings locally on your device. You don't need to connect to any VPN for the DNS profile to work. The profile just needs to be installed.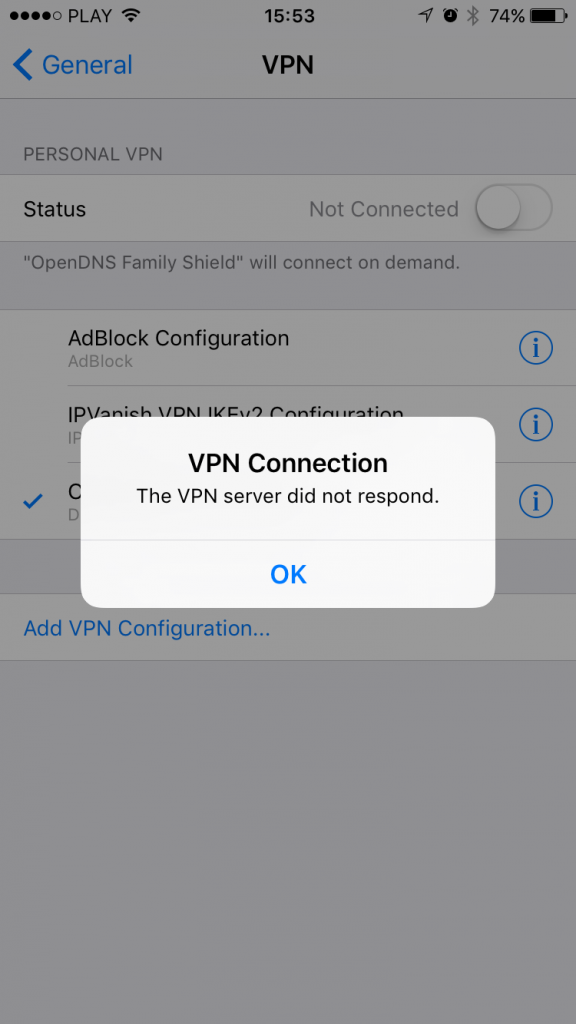 4. Pick your DNS profile
With DNS Override in-app unlocked you can now select your preferred DNS profile in DNS Override app. There are two ways to do this: you can either toggle the checkmark next to the profile on the list or go to details page and toggle DNS Override switch displayed below the DNS servers listing.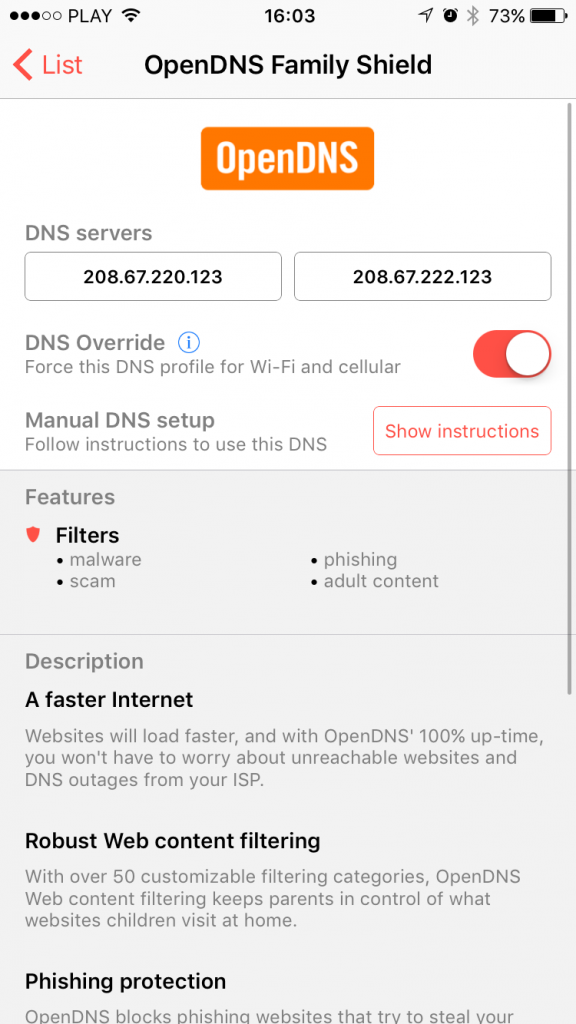 5. Test if it's working
Check how selecting different profiles in DNS Override app affect your DNS preference. Since v1.2.0 you can perform the DNS Leak Test right inside our iOS app. Simply go to "DNS Leak Test" tab to start the test. This will allow you to see which edge DNS resolvers are performing the actual DNS queries from you iOS device. Results will depend on profile you select in DNS Servers tab.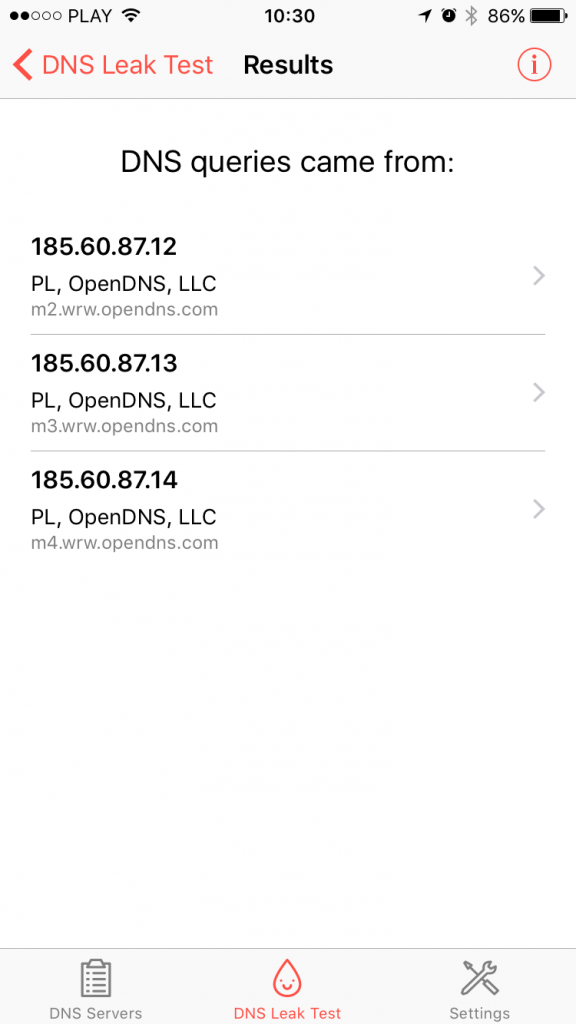 Alternatively you can perform similar test in Safari by going to http://www.dnsleaktest.com. Below you'll find example results for Google Public DNS and OpenNIC. The results might be different depending on your location.