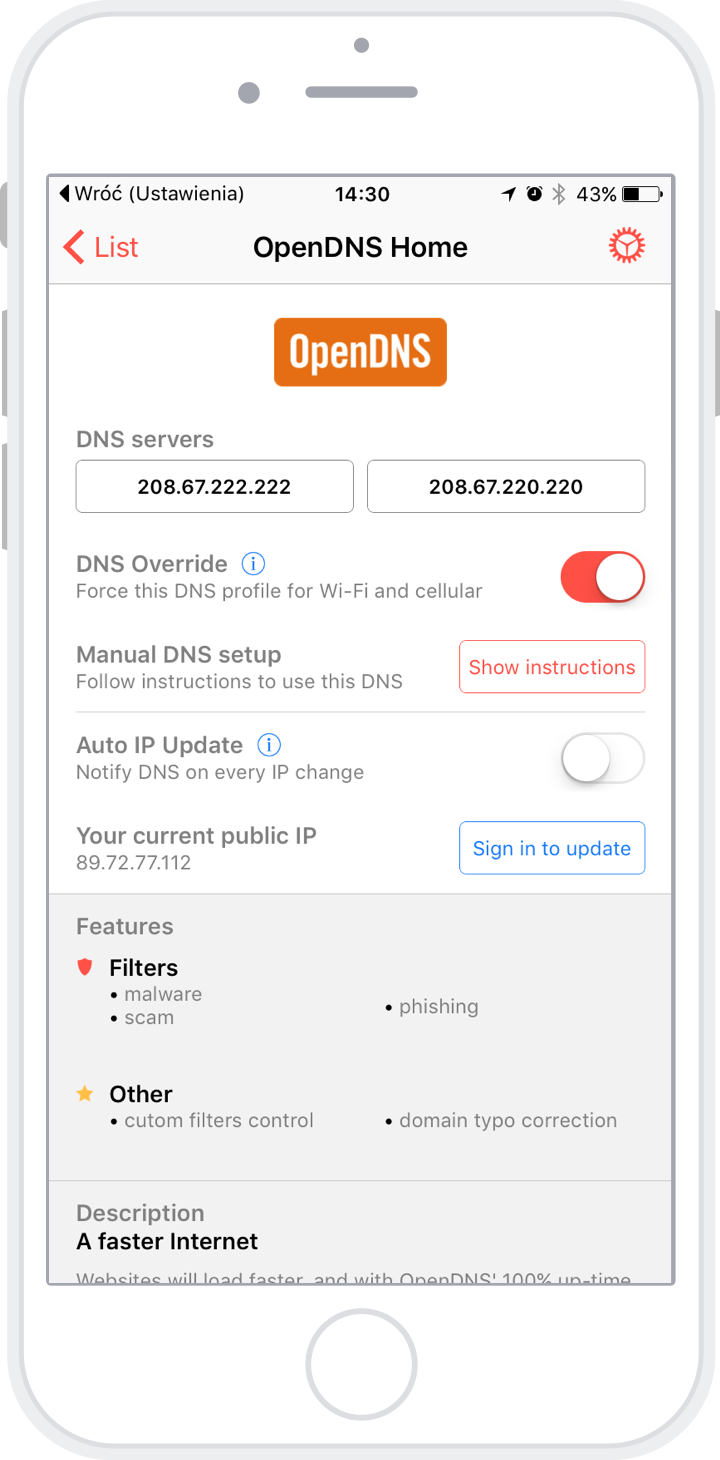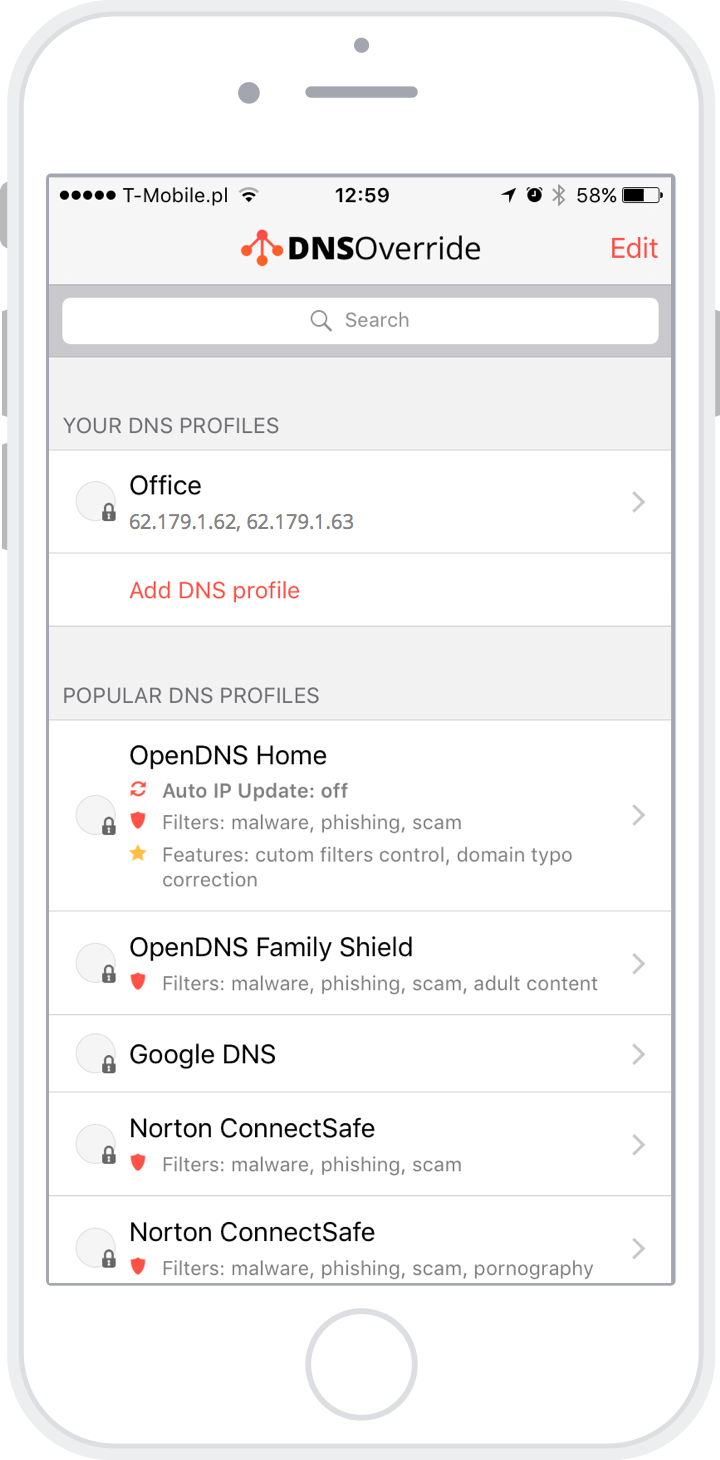 Powerful utility app to control DNS settings on iOS
DNS Override lets you choose your preferred DNS servers and use them with all Wi-Fi and cellular networks.
By selecting different DNS service providers, you can benefit from:
reduced DNS query delay = faster and more reliable Internet access
improved security = malware, phishing, scam sites blocked
automatic misspelled domain correction
adult content filtering = pornography, crime, gambling, violence, alcohol, drugs, hate, file sharing sites blocked
access to geo-restricted content thanks to major SmartDNS providers support built into the app
Private and secure
No VPN connection to any third party is established. All DNS traffic goes directly from your device to the selected DNS provider. All network traffic remains direct, fast and secure.

Convenient
You don't have to reconfigure your Wi-Fi settings for every network you use. Change your preferred DNS servers in a manner of seconds with just a tap. There's no need to remember DNS IP addresses anymore.

Works with Wi-Fi and cellular
With DNS Override feature you get one global setting for all Wi-Fi and cellular connections. Set it one time and enjoy your favourite DNS features everywhere. There's no need to set DNS servers separately for every network you use anymore.

No connection slowdown
Enjoy the full speed of your network, not affected by VPN bottlenecks or glitches. There's no need to relay on any server to route your traffic. Everything is sent directly from your device.

Keep your IP up-to-date
Manually notify your preferred DNS provider about your current public IP address with a single tap. Or use the Auto IP Update feature to do it automatically in the background every time you switch networks.

Universal
It allows you to configure DNS servers for both Wi-Fi and cellular connections on any iPhone, iPad or iPod touch with iOS 15 or newer installed.

They say about us
I recommend this app for all whom care.
"It is great, this app is such an important addition to your phone, you can use it easily with its simple interface and amazing instructions helper. You can choose from variety of big collection of DNS servers, that will help you either block or unblock some services and websites. For example, it is very important to use DNS that prevent adult sites if you have kids using your device, or may be you want to browse a site that is prevented due to you geographical location. I recommend this app for all whom care."

An excellent app
"This is an excellent DNS override app. Unlike many others, it actually works. It's easy to use between your iPad or iPhone, and there are a variety of different DNS profiles to choose from. You have multiple options to choose from, you can even select those with filters. You do have to pay to use certain profiles, however it's a small amount of $2.99. However I do think it would be helpful to provide a free trial, just in case the DNS profile that you choose isn't what you're looking for. Otherwise, it's an excellent app!"

Anytime and anywhere
"Auto IP Update feature rocks. I can finally feel that SmartDNS is with me all the time. Pandora radio app is now available to me anytime and anywhere."